Bismarckia-nobilis, Bismarck Palm
Bismarckia-nobilis, Bismarck Palm is one of the most eye catching of all the palms due to its large size and beautiful color. In time it tends to dominate any setting that it's placed in. This palm does quite well in Florida, including my zone 9A area where I've seen several large ones around town, even though it's rated for zone 10A-11. Mine suffered no damage in the early 2010 winter freeze.
There are great specimens both at Leu Gardens in Orlando and Rockledge Nursery near Cocoa. This palm is slow to moderate in growth, eventually able to reach 60 feet in optimum conditions. It grows on a single trunk topped by a canopy of 25 or so fan shaped fronds of blue-green that appear to be silver. Bismarck palms originated in Madagascar.
Note: Sadly last time I was at Rockledge Nursery, their large Bismark had died. I was told it was due to an unknown type of insect borer.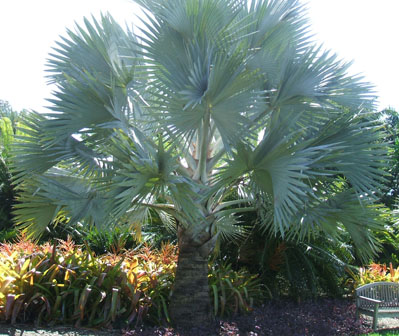 Click the tree above or below to purchase high quality Bismarck Palm Trees in several available sizes.
Hailing from the Madagascar Islands is the massive and Jurassic looking Bismarck Palm Tree that will grab your attention instantly. The Bismarck palm will gain your respect as it gracefully lines many grand hotels, subdivisions and developments in the south. Widely used for xeriscaping in southern California to Arizona and all the way to Florida, the Bismarck will make a great impression and addition to any home. The Bismarck when fully matured can be a beautiful focal point in your yard or garden. Bismarckia-nobilis also does well indoors when young, but due to its eventual massive size, it usually finds its ultimate home outdoors. In time it can grow to the maximum height of about 60 feet. This palm tree is considered cold hardy to about 20 degrees F. Each Bismarckia-nobilis has noticeable differences, from its small spots found on its stems, to the different shades of green, silver, and bluish colors. The silver-blue leaves can add a dramatic appearance to any pool area, lawn, or backyard. The Bismarck palm tree is the most sought after outdoor palm for its beauty and awesome appearance. Click the tree above for more information.

Back to Palm Trees from Bismarckia-nobilis